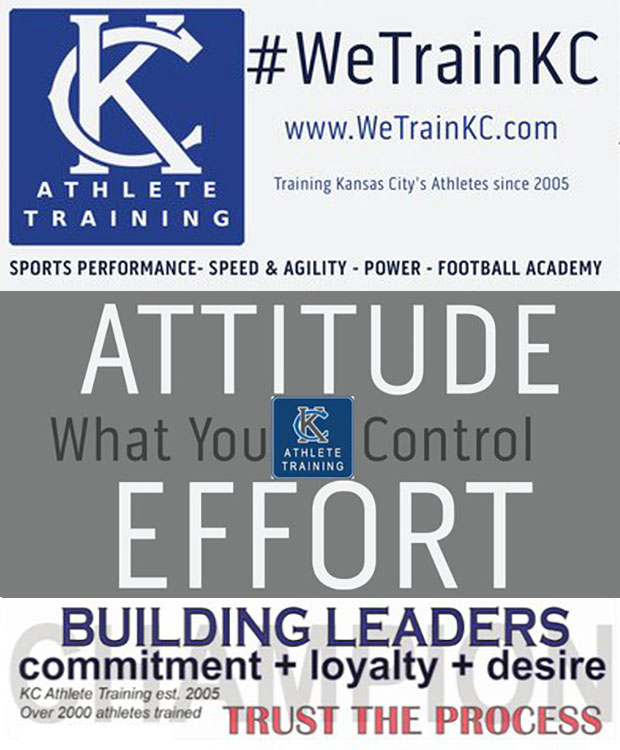 About

KC Athlete

Since 2005, Kansas City Athlete Training has offered sports performance training to both male and female athletes youth and high school along with college students throughout the KC Metro. In 2019 we opened our brand new 6,000 square foot indoor turf area and new in 2021 another 6,000 square feet of outdoor turf area was opened. We offer several group training opportunities via our 5-star rated sports performance training speed and agility training, weightlifting training, football specific group classes. We are centrally located in the heart of Kansas City Missouri which is easily accessible to athletes in Kansas and Missouri. Over the past year our centralized location has attracted athletes from over 100 different elementary and middle schools that feed into over 50 different high schools throughout the KC Metro.
Sports Performance Opportunities at KCAT!
Why

Choose KCAT

Kansas City Athlete Training provides an opportunity for both male and female athletes involved in any sport to achieve a strength and fitness level they never thought possible. It is our job to help them achieve this goal. If they have the desire we have the knowledge and opportunities available in our group and personal training classes to make that possible.

Our instructors will train your son or daughter on the proper way to increase speed, agility, strength, and endurance by using functional training techniques along with coaching proper mechanics. The purpose of this training is to help athletes transfer what they have learned and developed from the gym to the playing field. These classes are recommended for athletes in sports such as baseball, softball, football, basketball, swimming, wrestling, volleyball, track, tennis, golf, soccer, mixed martial arts, cheerleading and any other sport that requires speed, strength and coordination.

Our goal is to teach athletes that your effort is important. Hard Work = Improvement = Success. Give us your best, be consistent, and you will get the results...trust the process. At the end of Speed and Agility Class, we present an Effort Champion belt. Why? Athletes need to learn what effort looks like in the eyes of the coach. Recognizing athletes for their stand-up effort builds confidence. It is not rewarded for being the fastest or the strongest.The Effort Champion is selected by the coaches and awarded to the athlete who worked the hardest, was coachable, demonstrated leadership, and didnít give up.

Our Speed and Agility Class and Elite Training classes are intended to get any athlete in shape for their upcoming sports season and to improve an athlete's speed and agility skills which will in turn prepare them to have a more productive season.

Classes are intended for any athlete (male or female) between the ages of 5 on up as we work with both youth and high school athletes. He or she must be committed to improving their current athletic skills with a willingness to work at a high level of intensity. Our job as instructors is to try and get maximum effort and commitment from our athletes as they get in better shape their confidence grows help them develop into a leader.
Google and Facebook Review Rating
Number of group classes offered per week